Size: 1-BR  |  Closing Date: 2/15/2017  |  Final Price: $760,000
Broker Description:
Spacious hi-rise 23rd floor apartment with spectacular views of the East River, Brooklyn, Manhattan, and Williamsburg Bridges, Chrysler Building, Empire State Building, Courthouses, & the Manhattan skyline. A welcoming outdoor terrace with flowers, evergreens, patio table & chairs is an extension of the apartment thats perfect for morning coffee or entertaining with the view as the entertainment.
*One Bedroom, Living Room, Dining Room, Bathroom, Kitchen, Built-In Study, Outdoor Terrace.
*Wood floors with handsome 5 baseboard molding throughout.
*Built-in office with desk, drawers, keyboard drawer, and adjustable shelving allows for work-at-home.
*Built-in bookcase unit with five adjustable shelves.
*3-full sized closets.
*Bathroom has new pedestal sink, large modern medicine cabinet, led lighting.
*Apartment is wired for both Verizon Fios and Time Warner-Spectrum service.
*Total square footage 752
The Southbridge Towers complex was built in 1970, the building features: a newly renovated doorman-attended lobby, new full service laundry facility, community room, childrens playground, basketball court, discounted-resident indoor parking, additional storage space available.. On the complex is a veterinarian, caf, and fitness center. Directly nearby are: grocery stores, restaurants, pharmacy, hospital, bank, Pace University, City Hall & Courthouses, Subways & NJ Path Train & Ferry. A very unusual low monthly maintenance of $625.00 includes: electric, gas, water, and heat.
The front entrance stairs and access ramp are temporarily undergoing construction. The building, complex, and grounds are very well maintained and landscaped with strong financial assets and accreditation. Disclaimer: Square footage numbers are only estimates. If a potential purchaser is concerned about the square footage of the property, purchaser must engage a professional to assist him or her in calculating and understanding the methodology of calculating square footage.
Broker: HomeDax Real Estate  |  List Date: 11/02/2016  |  List Price: $795,000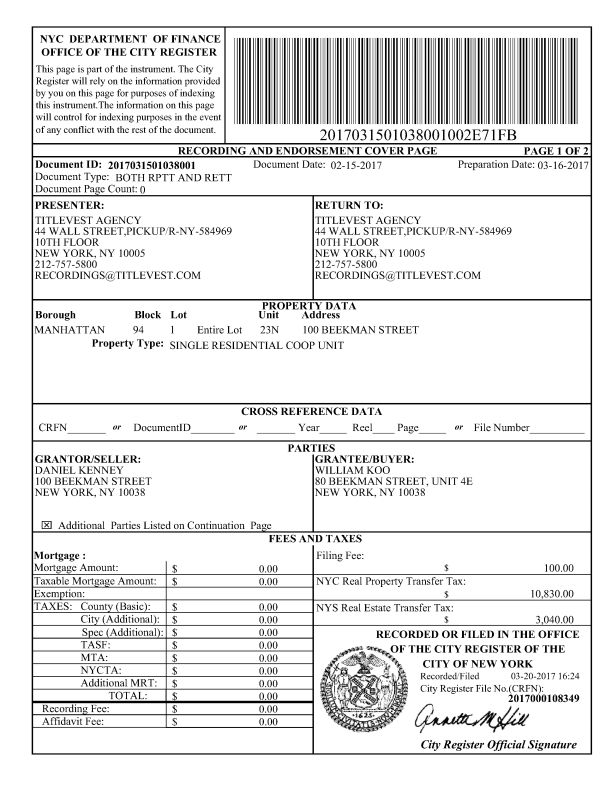 NYC.GOV ACRIS – CLOSED DEAL INFO –
http://a836-acris.nyc.gov/CP/
Block – 94 | Lot – 1
Michael Roché
Area New York
Broker of Record
(212) 227-8281
michael@areanyc.com